Match

your friends with jobs

it pays off
huntoo lets you gain cash by recommending people – not only to your company. Find your friends a job and get referral bonus!
Make money
on job referrals
Create a free account and generate unique links to chosen job offers
Send the link to your friends or share it on social media
Touch wood and wait for decision
Check how your friends are progressing in the process. If they're hired you get the bonus!
Complete information: you know the requirements for the position and the rules for receiving a bonus.
It's a win-win-win: your friend gets a job, the company gets the hire, and you get the bonus. What's not to like?
Recruitment statuses are not secrets
You're in the know. After logging in, you can check the status of your recommended person. Additionally, if you're eligible to the bonus, you'll get an email notification.
Each job offer has its bonus rules that you can check before recommending anyone. No gray areas: you know what to expect.
Track the status of your application
huntoo is more than referrals. If you're the perfect fit, feel free to apply! With a huntoo account, you can preview your status.
Make the most out of recommendations!
huntoo is a system for internal and external job recommendations. Get started with recommendation program or expand your current solution. Get more from TRAFFIT ATS and boost your recruitments!
59% hire rate
Our data indicates recommendations as the most effective source.
Matching candidates
Get more quality candidates and hire faster
huntoo + TRAFFIT = ❤️
Take care of your candidate experience and build lasting relationships!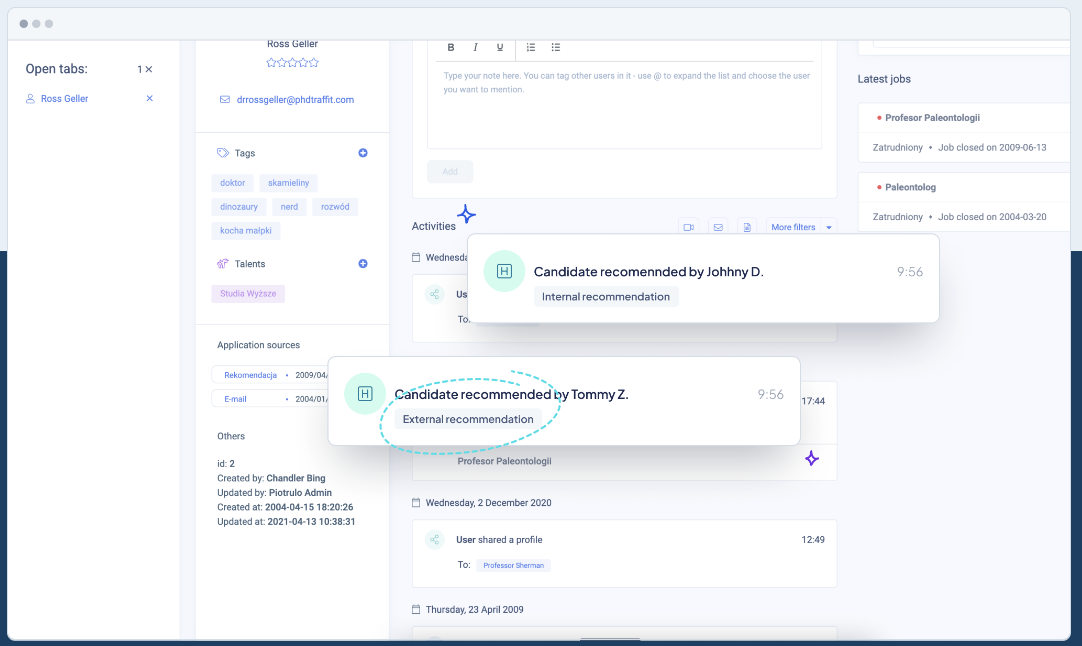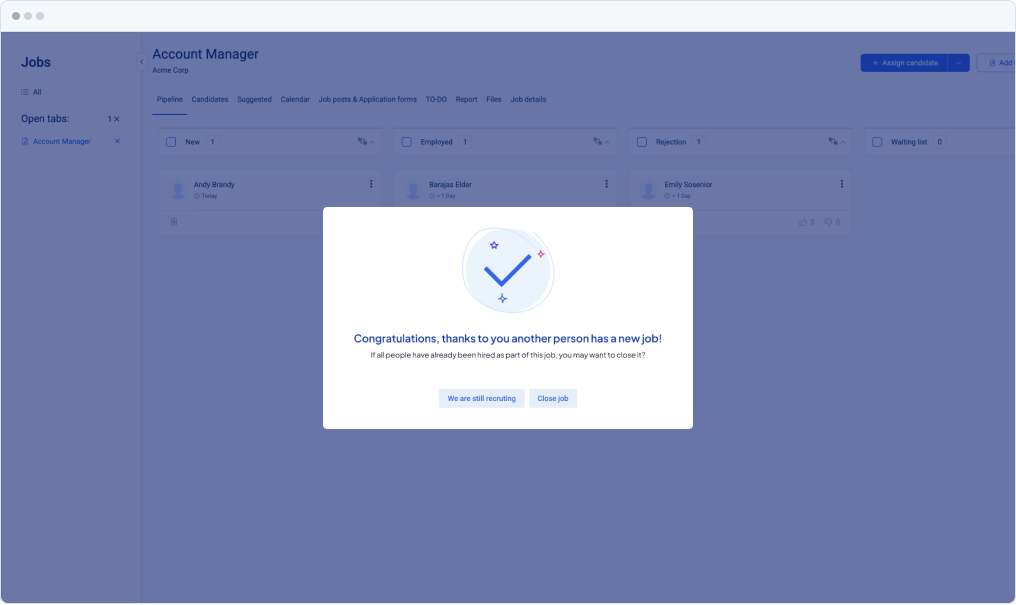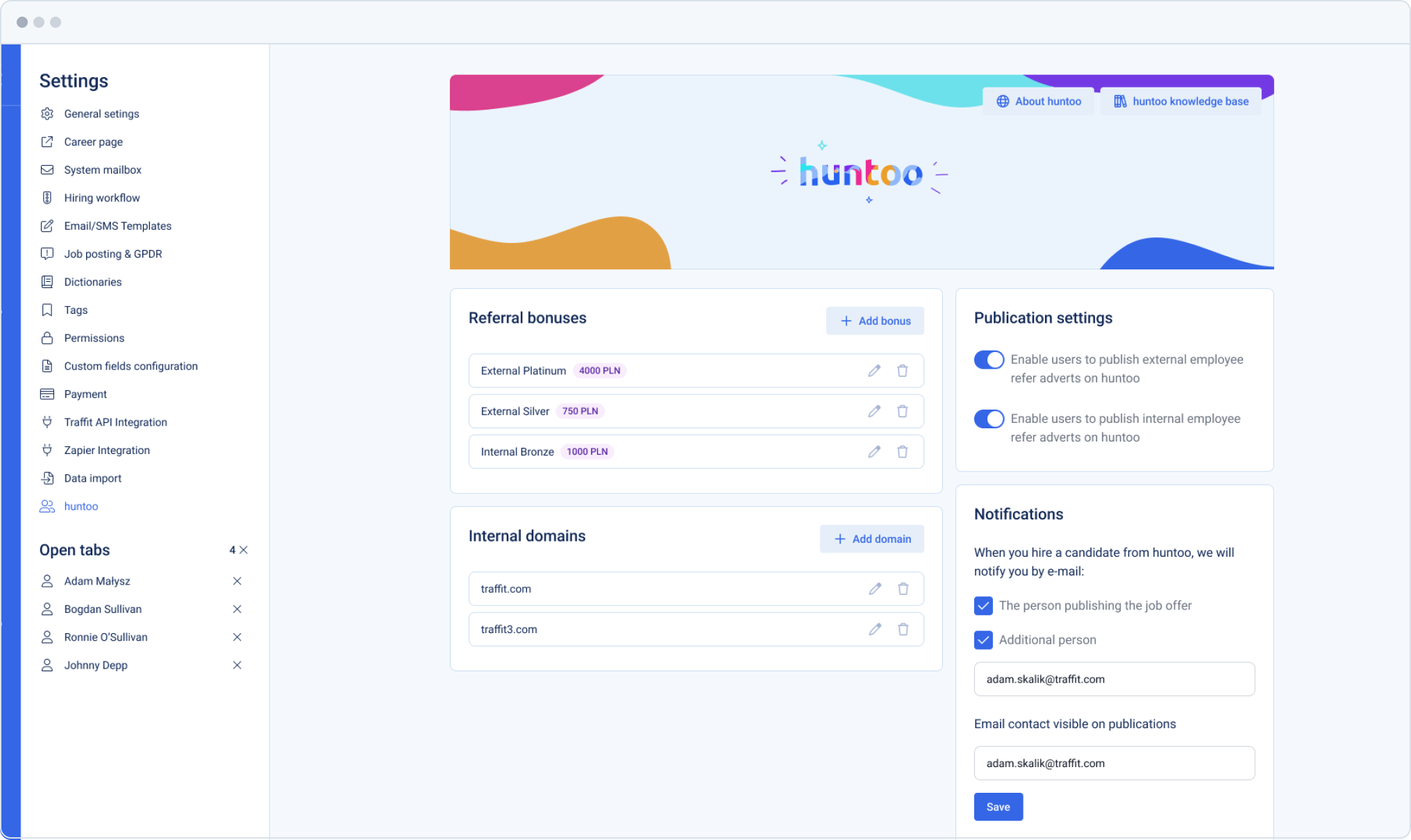 More doubts? Reach out to us!
Is there a limit on referral links I can generate?
No, there is no limit of unique links with referrals you can generate on huntoo and send to potential candidates.
Is using huntoo free of charge?
Using huntoo is free of charge for candidates and referrers. Companies that want to post jobs with referrals on huntoo need to have access to TRAFFIT.
How to become a referrer?
To become a referrer on huntoo, you just need to register here.You can create and account in huntoo using your Facebook and Google account.
Can I appy for jobs I see on huntoo?
Sure! You don't have to be referred to apply for a job visible on huntoo. So apply, and we'll keep our fingers crossed!
Who pays the referral bonus?
The bonus payment is executed between the employer and the referrer. huntoo is not involved in the bonus payment process.
How can I put my jobs with referrals on huntoo?
If you want to publish your jobs with referrals on huntoo you need to have access to TRAFFIT in Elite plan. After creating a job in TRAFFIT you will have the option to publish it with the bonus details on huntoo.
Do you want to add your job offers to huntoo?
Get a new candidate source.
Try TRAFFIT and give it a shoot.
Questions or suggestions?
Drop us a message via email or social media - let's talk! PS: We might take a moment with replies!